Hi, everyone!
I've installed Volumio 1.55 on a Raspberry Pi Rev1. I've mounted a NAS, and I can see the track list in the library. WHen I play a song/folder, I can hear the sound, but no track info is displayed; no track name/artist (see image), no progress counter, no volume control, either.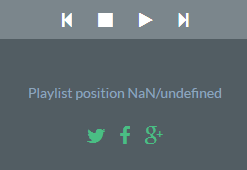 This happens when playing a radio station, too.
Any hints about what can cause the problem?
Thanks!
MIX