Have you gotten this DAC to work? If so, how, exactly? No luck with mine.
Hi guys, I'm very interested in buying a dac for my pi 2 and I'm thinking about a Sabre based dac, Audiophonics have 2 versions of them, the one you tried :
audiophonics.fr/en/kits-modu … -8396.html
and this one, that cost 3 times the first one:
audiophonics.fr/en/kits-modu … -9341.html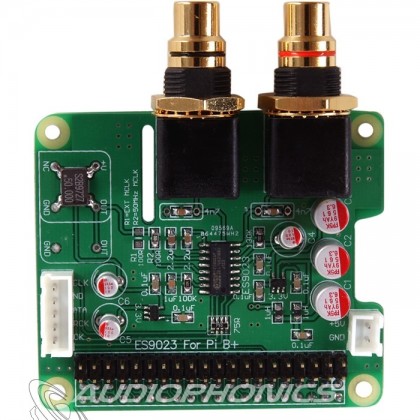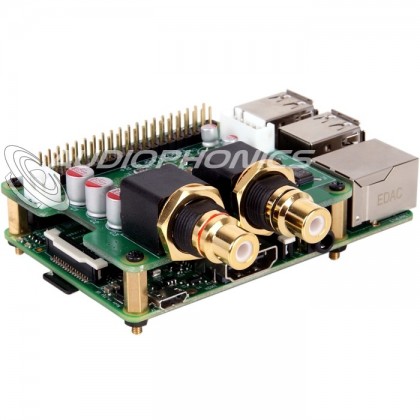 I contacted Audiophonics and they said that the second one is plug and play and have the clock installed
Have someone ever tried the second one? does it work well? it seems built a bit better…
I'm a newbie in the diy and raspberry field so I prefer the easiest solution, but in your opinion is the second one a waste of money compared to the first one?
many thanks
Hi!
Just to say that I own the first model. It works also "plug and play*" . You have to select "hifiberry" driver in Volumio setting page. And there is a onboard clock …
ok, you have to do some soldier…

reading the rest of the topic it seems that you only need to connect the cables, are that the only soldering needed? I can do that…
no one tried the newest audiophonics Sabre dac I posted before?
I own both of them. They are actually the same!
The "version 2" is HAT compatible so plugs and bolts directly on the A+ and B+. Bolts and risers are included.
Very convenient and sturdy setup
They both work with the Hifiberry driver.
I bought the "version 2" for approximately 30$ (agent handling and shipping included) on Taobao.
Slightly OT, could someone post a picture or a diagram on how to connect via I2S the "simplest" (or "first type") dac Audiophonics Sabre 9023 with Raspberry b+ through the 40 pins GPIO?
What kind of cable and connectors is better to use for good audio results (or are they supplied together with the dac)? I'd like to understand how difficult it is, before to buy the dac. Thanks
The last photo in the page you linked shows the dac connected to the raspberry with the cables, so I think they are included, I suggest you to write to Audiophonics for other infos using the contact form, they are fast and kind
I finally bought the HAT version but received the new superior version with TCXO , don't know why and I doubt that the greater clock provides a very different experience… anyway… thanks Audiophonics!
I'm using it with Volumio, plug and play connection, with only 3 tap I choose the Hifyberry drivers, 3 minutes and I was listening my music
I think it sounds good, in my system is very close to Oppo 93 analog output (but volumio provides a futuristic interface compared to the Oppo)
Hi
I got my board with out these wires. Does anyone have a tip where to order or get these wires to connect it to my RP?
Thank you very much